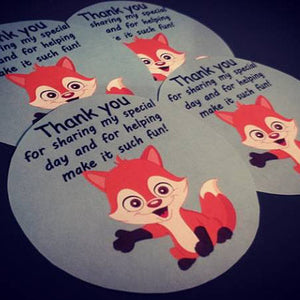 Baby shower Thank you stickers. The perfect way to thank your guests at your baby shower
M&D Stickers
Baby shower Thank you stickers. TYS000001
model name / number: Baby shower Thank you stickers.
size / dimensions: 4 inches in diameter
The perfect way to thank your guests at your baby shower or birthday party
You will receive a set of large 12 stickers
Each sticker measures about 4" in diameter and is ready to use.
Professionally printed on high-quality matte sticker paper, these stickers are already cut and ready for you to use! Just grab the sticker you need, peel and stick!
PLEASE NOTE: We print our stickers on high-quality matte sticker paper as opposed to glossy sticker paper to prevent a glare when taking pictures.
SHIPPING INFORMATION: Current shipping preparing time is just one business day. Order today and we'll send it out to you tomorrow morning! Shipping is FREE!, local pickup is FREE!
LOOKING FOR SOMETHING SPECIAL? Send me a message - we love special orders and we're usually able to design exactly what you're looking for in just a day or two!
HAVE QUESTIONS? Send me a message! I'm almost always around and reply quickly!
#babyshower, #gift, #boy, #girl, #present, #newborn, #infant, #babystickers, #onesie, #photoshoot, #fox, #cute, #adorable, #hamptonroads, #handmade, #thankyou