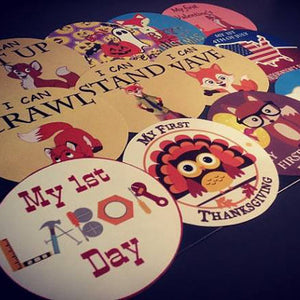 Milestone Baby stickers. Onesie stickers.
M&D Stickers
Milestone Baby stickers. Onesie stickers. MBMS001001
model name / number: MBMS001001
size / dimensions: 4 inches in diameter
Baby milestone stickers are the perfect way to capture each unique moment of your baby's life. Great gift for newborns. Unisex onesie belly stickers.
You will receive a set of 12 milestone baby belly stickers:
I can sit up
I can crawl
I can wave
I can stand
My first tooth
My first Halloween
My first Christmas
My first Easter
My first Labor Day
My first Thanksgiving
My first Valentine's
My first Independence Day
Each sticker measures about 4" in diameter and is ready to use.
Professionally printed on high-quality matte sticker paper, these stickers are already cut and ready for you to use! Just grab the milestone sticker you need, peel, and stick to your baby's shirt or onesie and you're ready to snap away!
PLEASE NOTE: We print our stickers on high-quality matte sticker paper as opposed to glossy sticker paper to prevent a glare when taking pictures.
SHIPPING INFORMATION: Current shipping preparing time is just one business day. Order today and we'll send it out to you tomorrow morning! Shipping is FREE!, local pickup is FREE!
LOOKING FOR SOMETHING SPECIAL? Send me a message - we love special orders and we're usually able to design exactly what you're looking for in just a day or two!
HAVE QUESTIONS? Send me a message! I'm almost always around and reply quickly!
#babyshower, #gift, #boy, #girl, #present, #newborn, #infant, #babystickers, #onesie, #photoshoot, #cute, #adorable, #foxes, #unisex, #bellysticker, #milestone, #icansitup, #icancrawl, #Icanwave, #Icanstand, #Myfirsttooth, #MyfirstHalloween, #MyfirstChristmas, #MyfirstEaster, #MyfirstLaborDay, #MyfirstThanksgiving, #MyfirstValentine, #MyfirstIndependenceDay