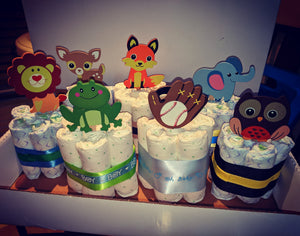 Mini diaper cakes with the topper
M&D Stickers
Mini diaper cakes with the topper Baby Shower Decoration Gift. One Mini diaper cake is made of 7 size 1 diapers, surrounded by a ribbon (can be customized to match your baby shower colors)!
Mini diaper cakes are built from:
=== 7 Diapers size 1 (8lb to 14lb)
=== Ribbon of your choice
=== 1  cute topper
If you want to customize this or include a gift card, please let us know.
LOOKING FOR SOMETHING SPECIAL? Send me a message - we love special orders and we're usually able to design exactly what you're looking for in just a day or two!
SHIPPING INFORMATION: Current shipping preparing time is just two business days. Order today and we'll send it out to you in the next 2 days! 
HAVE QUESTIONS? Send me a message! I'm almost always around and reply quickly!
#babyshower, #gift, #boy, #girl, #diaper, #present, #cake, #newborn, #infant, #Pampers, #Huggies, #Luvs, #minicakes, #toppers, #woodlandbaby